Corn pudding is an old-fashioned favorite often found on Thanksgiving tables but it is a particular favorite during corn season in August and early September. Try this out with corn cut from leftover cooked corn on the cob or fresh corn. You can make it all year long by using canned or frozen corn.
Start by shucking 4-6 ears of corn. Hold the cob upright in a large bowl with the stem end resting in the bottom of the bowl.  Use a sharp knife to (carefully, carefully) cut the corn from the cob with downward strokes along the side of the cob. When you finish each cob, hold the knife blade perpendicular to the cob and run it down the cob again to get the partial kernels and the milk from the cob. You should have 2 - 3 cups corn when you get done.

Grease a deep dish pie plate or casserole with a generous amount of butter. Preheat your oven to 350 degrees.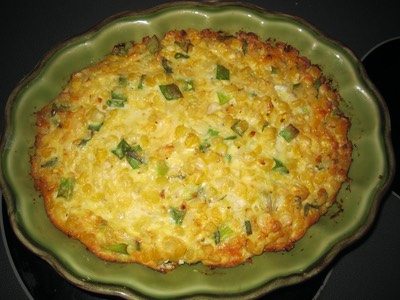 In a large frying pan, melt 1/2 a stick of butter or margarine. Add a 1/2 cup of diced pepper and a couple minced garlic cloves. Add your corn and cook gently for a few minutes to soften them up slightly. Let cool a little. 
In a large bowl, beat by hand a can of evaporated milk plus 3 extra large eggs. Season well with salt, pepper, hot pepper and basil.  Add one half cup of flour (can be half cornmeal) plus one tsp baking powder and mix well. Add 2-3 sliced green onions (green and white parts) and 1/2 cup of shredded cheese. Cheddar or a pizza mix is good. Now add in the corn mixture and incorporated well. Then dump it into your baking dish and spread it evenly. 
Bake for 45 minutes. then remove from the oven and sprinkle another 1/2 cup or so of cheese on the top. If you test for done-ness with a toothpick at this point it should not be completely set. If your pan is large and your pudding is not vey thick it may cook more quickly. 
Return to the oven to melt and brown the cheese. My pudding baked in a deep dish pie plate generally takes 50-60 minutes total.
You might like to add sliced jalapeno and a little cumin. In corn season I like to add sliced real tomatoes to the top before I cook the pudding and then add the cheese on top of that as usual later on.